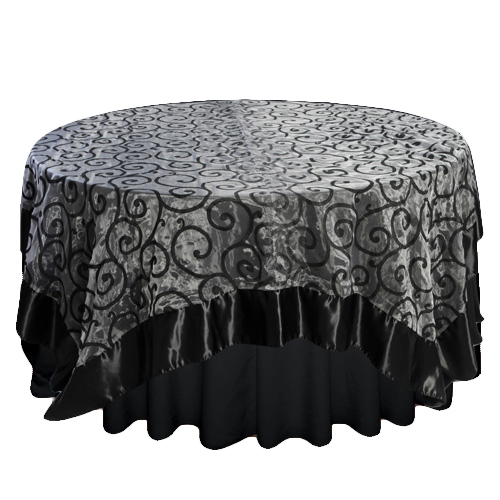 Black Flocked Swirl with Satin Trim Overlay Rental
SKU Black Flocked Swirl with Satin Trim Overlay Rental
Product Details
Our flocked swirl overlays are a popular choice for adding texture to a table (especially if your venue already has linens you can use). They are an affordable addition to any setting and have a beautiful iridescent quality to them made of a sheer fabric with a flocked swirl pattern and satin trim.
Quote: To request a quote to include your shipping and handling fees AND any current promotions, with no obligation to rent, choose your products, add them to your "shopping bag" & when you are done, checkout. (You will NOT be charged.) We will get in contact with you shortly with a complete rental quote to include your shipping and handling fees and any current discounts. Need Help? Email, call, or come and see us.

Please Note: In some cases, not all colors are available in all sizes listed. Also, actual colors may vary from computer display. We encourage getting a sample to assure proper sizing and colors. Call or email today to learn more.
Save this product for later